Elena Vivaldo has taught diving all over the world. As a freelance SEO copywriter, she's worked with clients from over 35 different countries covering a broad range of industries but especially scuba diving. Vivaldo came into freelancing already plugged into her outdoorsy niche as a scuba diving instructor. From there, she took focused courses on business writing, copywriting, and SEO copywriting which has allowed her to work on a wide variety of projects over the years.
Currently based in the UK, Vivaldo expertly balances meeting her current clients' needs while maintaining active and professional social media channels to cultivate new clients. In this interview, Vivaldo shares some of her tips for finding clients through social media, taking online courses, negotiating rates, and not getting too caught up in a single niche.
Year started freelancing full-time: 2017
Age when started freelancing full-time: 24
Preferred Pronouns: she/her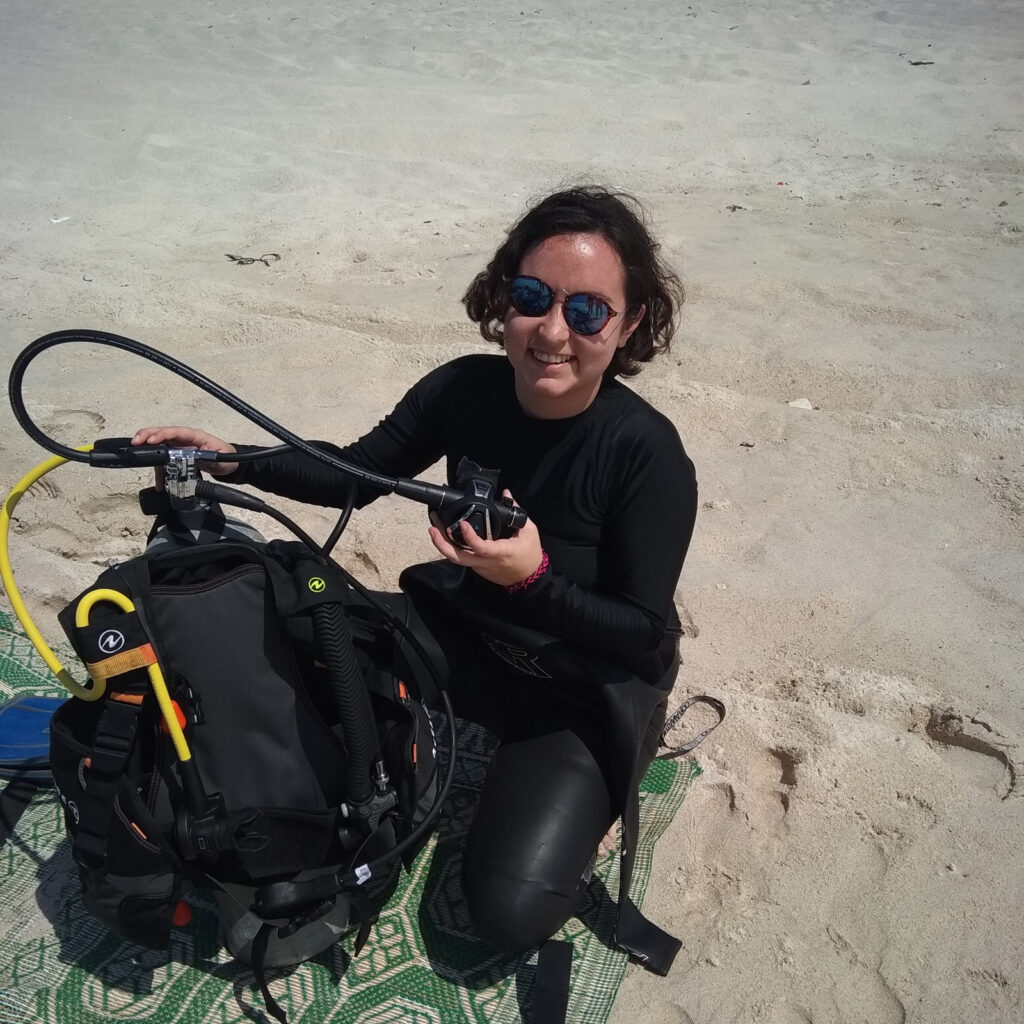 What's your "about you" elevator pitch for what you do?
Depends on who's asking!
If it's someone from the diving circle, I'd say: "Hi, I'm Elena, a freelance SEO copywriter and PADI scuba diving instructor. I merge my 20 years of diving experience with my SEO and writing skills to help clients rank higher on Google and stand out from a sea of sameness. My past clients include dive centers, resorts, dive-related environmental organizations and dive gear manufacturers from all over the world. From blogs to emails, web content, product descriptions and social media posts, I write content that is engaging, informative and easy to read."
Whereas if it's someone from another industry, I'd focus more on my research and writing skills. So I'd say something along the lines of: "Hi, I'm Elena, a freelance SEO copywriter and content writer specializing in researching and simplifying even complex topics. Anything from new technology to eCommerce, travel and the hospitality sector. I work with startups, entrepreneurs and businesses to help them find their words and create content that pleases humans and the Google Gods. I do websites, blogs, social media, newsletters, press releases, product descriptions and even video scripts."
From time to time, I also have enquiries asking about my letter writing skills. In this case, I'd forget all about SEO and say: "Hi, I'm Elena, a copywriter and business writer. I specialize in writing formal and informal letters and emails. Like complaints, requests, sales emails, CVs and cover letters for visa, school and job applications. I'm professional and discreet, and whatever your requirements are, I write clear and professional letters to help you get your message across."
How did you figure out what to emphasize and highlight?
I check who the potential client is and focus on the skills they'd be more interested in.
What did you do before freelancing?
I worked as a scuba diving instructor here and there, around the world.
What was your education and experience before starting freelancing?
Freelancing is all I've ever known really. I've been working remotely even before it was a thing.
As far as my education and work experience go, I did a business writing course first, which led me to write business and personal letters and emails for entrepreneurs, students and day-to-day people. I then branched out and did a copywriting course, topped it up with SEO courses, and started offered my writing skills to companies, big and small businesses and startups across all industries.
How did you find and choose the courses you took?
I did a lot of online research. I value flexibility and I knew that whatever course I took, it had to work around my schedule. So I prioritized that along with being reputable and actionable.
I found a UK-based, online course provider called College of Media and Publishing. They offer self-paced courses with practical assignments and tutor support. I took their copywriting and business writing courses and they were absolutely brilliant. They taught me the basics to get into the copywriting framework. Plus, they're accredited.
What preparation did you do before going full-time freelance?
Preparation? Nothing really. I just kept looking for work and focused on becoming a better copywriter.
What was the most challenging thing for you when you first started?
Finding regular, well-paying clients.
How did you get clients when you first started?
I used online freelance websites like Upwork and Fiverr.
How did you get into the outdoors niche?
I was already a scuba diving instructor, so writing about what I knew best was an obvious decision.
How did you get into being a diving instructor?
I was a diver first. I've been diving since I was a kid and it was just a hobby that I had. So on holiday, I'd have a dive here, have a dive there. Then eventually I thought, maybe I could work, make some money diving, and not just dive for fun.
There's stages before you become a scuba diving instructor. You have to meet certain criteria, log a certain number of dives, you have to do a few things. I took it really slowly. First, I became what you call a Divemaster, which basically means guiding dives and assisting the instructor on courses. Once you're a Divemaster you can become an instructor.
Then, when I was a Divemaster, I started to think: "I've come so far. Why not go a little further?" So after gaining some work experience, I eventually did my instructor's course and got to teach people how to scuba dive.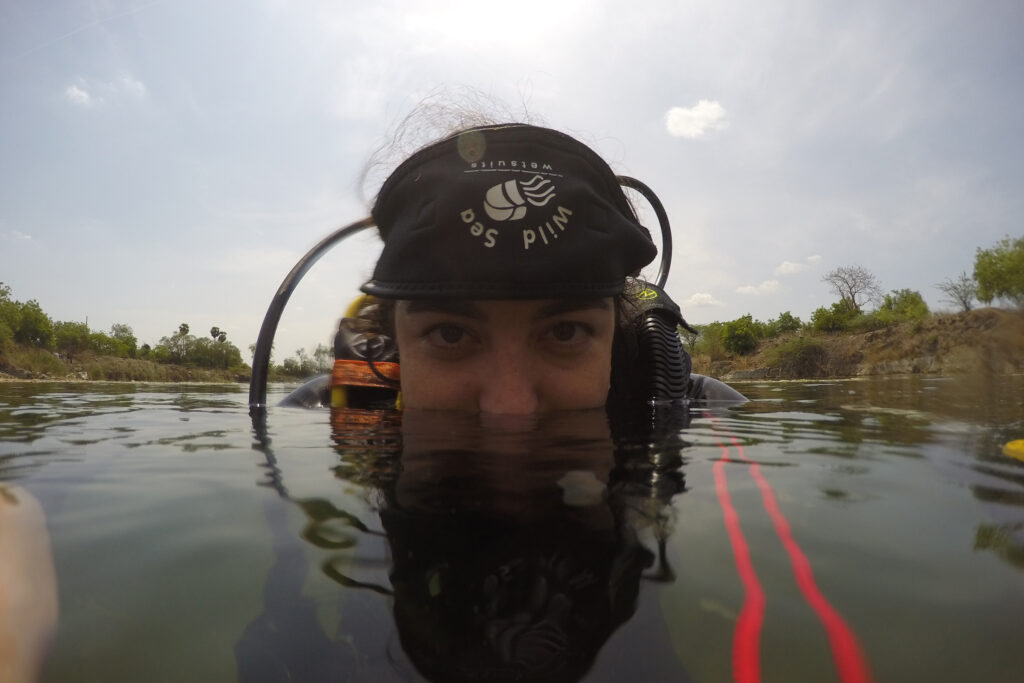 How much of your income would you say comes from outdoors and diving writing versus other work?
It's hard to give an exact estimate, but I'd say about 70% of what I do is somehow related to diving. Like travel guides, marine life, environmental initiatives, watersports gear, etc.
Your website looks amazing — super professional, personable, easy to read, intuitive — how did you make your website?
Thanks! I built my website myself using WordPress.
How much time have you spent creating your website?
Days, weeks even. It was all new to me, so it took me a long time to learn the technicalities of building a website. Like how to go about registering a domain name, setting up Google Search Console, finding a web host, choosing a website builder and creating a business email. All while comparing plans, features and costs. Thank God for YouTube tutorials!
How did you decide what to put on your website?
I put what I wanted to offer my clients: SEO copywriting, content writing and business writing. I'm a scuba diving instructor, so I wanted to give it its rightful spot on my website.
When did you make your website?
During the first lockdown in 2020. It was the shove I needed to sit down and build my website. It still needs a lot of work, but I'm glad it's finally up there.
Do you charge more for your diving copywriting versus general copywriting because of the added niche knowledge?
Yes, I generally do. I'm aware that scuba diving is a copywriting niche, so not many people have the diving know-how to write about it.
Clients who hire cheap copywriters waste a lot of time having to explain the abc of diving to them, only to receive average copy that lacks real-life experience.
How do you measure this?
Depends on the project brief. Every quote is tailored to the client's needs. So things like SEO, research and scope (whether it's to drive sales or inform) are all important factors. And the more technical the project is, the more I charge. Simple as that. As an estimate, it's usually 20% more than my "standard" rate.
How different is the diving copywriting work to some of the other writing work you do?
When I do diving copywriting, I've noticed that clients often expect a lot more. They hire me not just to write good copy, but also to take care of all the nitty-gritty of website writing. Like SEO keyword research, finding copyright-free photos and more technical aspects like writing meta tags and adding internal and external links. The whole package.
They're often not aware of the work involved beyond the writing part and they tell me: "Elena, just do it. We trust you." And I'm only too glad to write about what I love.
I offer the same copywriting services to my clients from other industries, like IT or eCommerce, but they usually know exactly what they want and have a clearer marketing plan. I just follow their instructions, which makes my job faster and easier.
I usually plan my social media content at the beginning of every month, so I don't have to worry about posting some last-minute meme to fill the lull in posting.
Scheduling my posts in advance stops me from aimlessly scrolling through social media and gives me more time to get work done and reach out to potential clients.
Specifically, I schedule 1 or 2 posts per week, which are a mix of my latest work, useful copywriting tips, SEO updates, diving articles or funny posts (got to keep it light, right?). If I then have more news and work-related things to share (and I usually do), I pad it around my social media calendar.
Very helpful! Especially Facebook. I've gotten a few new clients through Facebook groups — copywriting groups and job boards.
LinkedIn has been great for networking, meeting other copywriters and potential clients. I've never got work directly from LinkedIn, yet, but it's been a great resource. I think it gives me more credibility too.
And I recently just joined Instagram. I'm not sure if it's right for my copywriting business, but I think it's the place to be and I don't want to be a dinosaur. But Facebook's really worked for me.
How do you use Facebook? Do you have a business page?
I have my own Facebook page where I post my posts — work that I do or memes. But I don't have specific groups where I look for work. I'm part of a few groups and I just scroll through them and sometimes I apply or DM the person who's posting and sometimes it works. I've got some regular clients that way.
Do you have any tips for how you make time for the marketing and your own business upkeep?
If anything, I think you need to put a time limit on how much time you spend on your marketing. It's easy to get lost in your own website and social media profiles, always updating them to make them prettier and more inviting.
What does your onboarding process look like for a copywriting client?
I'm pretty flexible. I do whatever is easier for my clients, taking into account their work schedule and the time difference between us.
So we either discuss the project via email — from requirements to revisions stages — or discuss the project in detail over zoom. Or a bit of both.
Once I had a client, a young University student, sending me only voice notes, which was interesting and sweet.
How do you work in vacation or sick days?
I'm very organized, so I always aim to finish my work well before the deadline to leave room for any sick days or lazy days.
I like to go away a lot, so I usually pack in a lot of work when I can. Even if it means working non-stop for a few days, it's worth the extra effort because I can then go away for days or weeks on end without worrying about work. I like to disconnect, and freelancing gives me that freedom.
Obviously, I let all my clients know in advance when I'll be "out of office" so we can work together to finish what needs to be done.
How do you decide your rates?
I have a standard rate card, which I consult whenever a client asks me for a quote. Depending on the project, time and research involved, I adjust my standard rate.
Having a rate card stops me from second-guessing myself before hitting the "send" button.
How do you decide when you bump up your rates?
Whenever I enroll in a course — be it SEO, copywriting or marketing — or whenever I work with a big brand or a high-caliber client. I also push my prices up as time goes on and I get more experience.
How do you negotiate rates with clients?
If we're negotiating over a small difference, we usually meet in the middle.
If there's a big gap in what we're both willing to accept, I lower my offering. So I either reduce the word count or remove extras (like link insertion, meta tags, etc.). It saves me time and the client pays less for acceptably quality work. It's a win-win.
What do you think you're best at as a freelancer?
Keeping an open mind to new challenges and accepting new projects from a variety of niches. I'm good at researching and keeping things simple, so I'm not afraid to dive into new topics.
Any tips for others on how to do that?
Become an expert in what you know, but don't limit yourself. As a freelancer, it's important to branch out into different areas. It's like having a safety net.
What do you like the most about freelancing?
Having control over my work schedule. I don't like to be tied to strict work hours, mainly because I'm a night owl. I like taking days off, too.
But one of the best parts about freelancing is how varied the job can be. I get to work with some amazing clients on so many exciting projects. For example, I've written for a travel agent in Peru, an MTV finalist in the US, a construction company in Canada, a luxury charter yacht operator in Turkey, a coffee shop in Dubai, an IT company in India, a security training provider in Australia and an international web browser for children with autism.
To date, I've worked with clients from 35+ countries, which includes — of course — dive centers, dive news outlets and scuba gear manufacturers.
Have you ever dealt with imposter syndrome?
Yes. I'm not the best copywriter out there. I've never studied writing, enrolled in some high-flying copywriting course or been mentored by some writing guru. I still make mistakes and people on social media don't swoon over my posts.
How do you manage it?
I focus on my clients. I focus on being responsive, clear and friendly. Creating good copy is important, but building long-term relationships is what takes you far as a copywriter.
Have you ever gotten burnt out?
No. Freelancing helps you have more control over your work-life balance, so I'm careful to create a balance that keeps me from burning out.
How do you decide when to strengthen current skills or learn new ones?
I try to keep up and learn the latest skills. It's usually through job postings that I notice whether I'm falling behind and need to hop on the trend wagon.
Right now, I'll continue focusing on SEO. Somewhere down the line, I'd also like to get into social media and digital marketing.
Recently, there's also been a lot of talk about ChatGPT — the AI writing tool. There are a lot of pros and cons, but I'll keep a close eye on it to see how it evolves.
Is there anything you've done as a freelancer that you'd do differently now if you could go back and redo it?
I would have put my rates up a lot sooner. For a long time I accepted ridiculously low-paying gigs because I wanted to gain work experience and build my portfolio.
I would also have started using social media for my business sooner. You never know who is looking and where. Nowadays, you have to have an online presence and be consistent with your messaging to let potential clients know who you are, what you do and what makes you trustworthy.
Have you ever felt or experienced any challenges as a woman in the outdoor industry?
No. As a copywriter, I've never had any opportunities snatched from me or rates lowered because of my gender. Maybe working remotely has helped with that — I haven't had any toxic workplace or unfair treatment.
If you could give one piece of advice to a newer woman freelancer getting into the outdoor industry, what would it be?
Broaden your skills. Don't focus just on your outdoor expertise, but find ways to complement it through useful in-demand skills. Like IT, web design, marketing, photography, copywriting, or others.
By staying sharp in an ever-changing world, you can not only be confident that you can deliver good work, but you're also reassuring your clients that you're up to the job.
See Elena Vivaldo's work
Want to read some of Vivaldo's work or get in touch about working with her? Visit her website, follow her on Facebook, LinkedIn, and Instagram, and see some of her work below!