Across the internet, you'll see tons of people preaching "this is THE way to make money as a freelancer," or "you MUST do XYZ to be a successful freelancer," but the truth is – there isn't just one way to be a freelance outdoorswoman.
The Freelance Outdoorswoman (TFO) is an interview archive showcasing brilliant women freelancers in the outdoor industry.
They all have at least three to five years of experience and have done their own work figuring out what works and what doesn't.
Each interview talks about the different aspects of the freelancer life including:
How they are making it work
How they got to where they are, and
Advice they'd give other women or folks who've experienced gender discrimination who want to freelance with an outdoor focus.
Who Is TFO for?
New or early-career women freelancers who are in the outdoor industry or want to get into the outdoor industry. TFO aims to be an inclusive space welcoming cis and trans women, as well as people who experience gender discrimination but do not identify with the gender binary.
It's also for experienced women freelancers in the outdoor industry to celebrate their wins and share their knowledge with others.
What Is TFO's Mission?
To show women in the outdoor industry that they are not alone and that there are so many different ways to make it work.
One person may give one piece of advice, another may give the exact opposite – and they are both succeeding. We're all still just figuring it out.
Why This Page Changed From Outdoorswomxn to Outdoorswoman
When I created this website, I thought I'd done my research and understood that using an x in womxn was an intersectional feminist definition of women that explicitly includes not only cis women, but also trans women and femme/feminine-identifying genderqueer and non-binary folks (definition from Feminist Oasis).
With this wording, I had hoped to be as inclusive as possible. However, I have now learned that it's not as inclusive as I thought it was. Trans women are women. Not womxn. And including non-binary folks with womxn, can kind of defeat the purpose of non-binary.
If you associate with womxn and want to use that term, I'm all for it. But I don't want to assume that label especially if it's coming off as offensive to people.
Everyone I interview, I hope to ask (and include) their preferred pronouns and make sure I am as inclusive and welcoming as possible to all different types of people.
If you have any comments, concerns, or suggestions for how I can do that better, please feel free to reach out. I am always open to listen and learn more.
For other resources of women freelancers being successful and giving advice check out these:
Binders Full of Outdoor Writers and Adventure Journalists Facebook Group (I'm not allowed to post the link, but if you're having trouble finding it, reach out and I'll shoot you an invite!)
Who Runs This Site?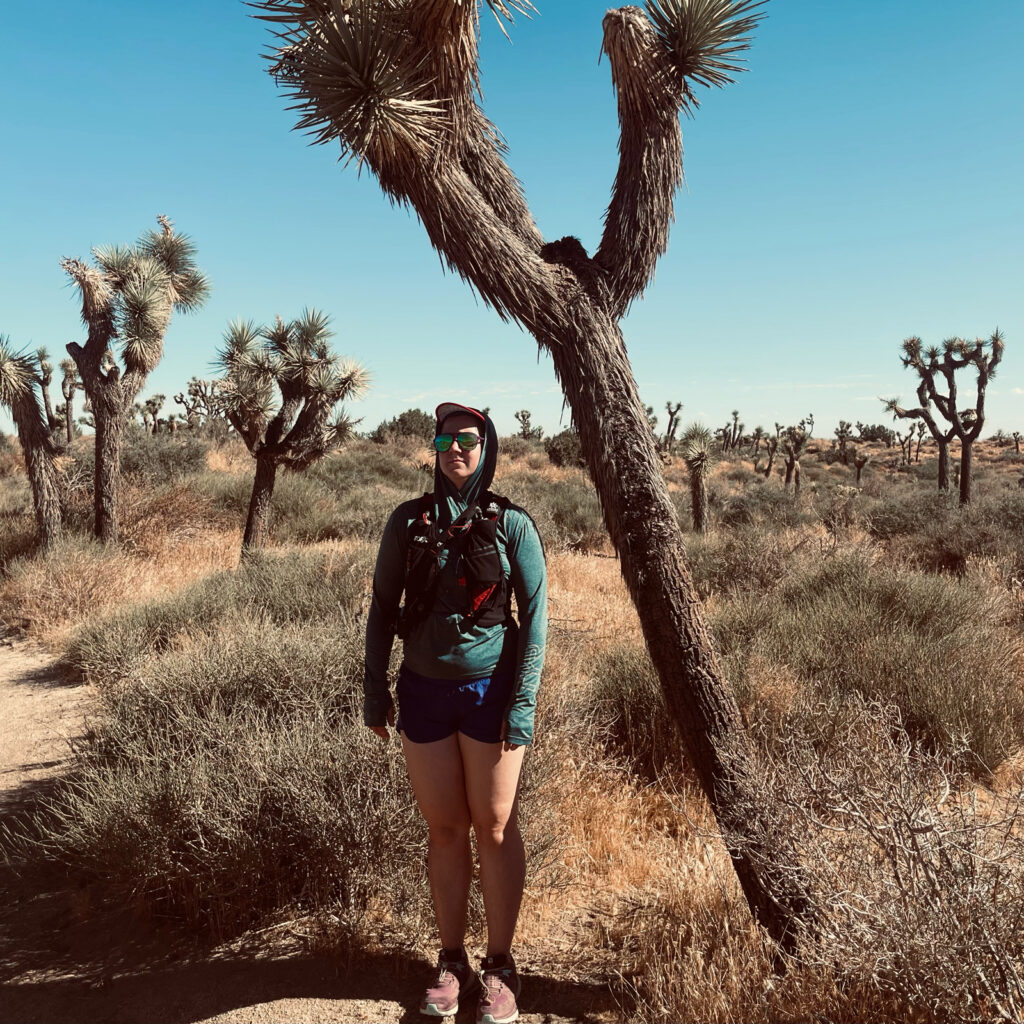 Hi! I'm Johanna (she/her). I'm a freelance journalist, copywriter, and SEO specializing in the outdoor industry and conservation. I focus on connections and advocacy. (You can learn more about me as a freelancer on my website)
I got the idea for this little passion project in fall 2020 when I was connecting to other more established freelancing women in the outdoor industry.
I started to notice that there are a lot of women making a career out of this lifestyle and thriving. It wasn't just some pipe dream that I was making up from scratch or an unrealistic goal. And it wasn't something that only a few people were doing. There are a lot of us making it work as a career – not just an in-between-jobs sort of thing.
Then I started to realize:
Maybe it's not just me who'd want to learn how all these badass women are making it work in different ways?
So that's where this started. In a completely self-serving way because I want to talk to a bunch of badass women living my dream and I want to learn how they've done it.
The Questions
Since I'm going to be asking all these freelance women to answer lots and lots of questions, I figured it's only fair for me to answer them as well.
Each year, I'll try to go back and review my answers and see if anything has changed. I still consider myself new to freelancing, so by no means take my answers as the holy grail to advice. I am just one person with one opinion.
If you want advice, check out some of the other badass women on this site who are far more experienced than I am. If you want to know how one early-career outdoorsy freelancer is figuring things out, keep reading.
Other TFO interviews:
Year Started Freelancing Full-time: 2019
Age When Started Freelancing: 22
Preferred Pronouns: She/her
Last updated: Oct, 2023
About You
1. What's your "about you" elevator pitch for what you do?
"I'm a freelance journalist, copywriter, and SEO specializing in the outdoor industry and conservation. I focus on connections and advocacy." (But this still seems to be constantly changing.)
2022 update: "I'm a freelance journalist, copywriter, and SEO specialist focusing on all things outdoor adventure, travel, social justice, and environment."
2023 update: I also have my first book coming out in April 2024 titled Beer Hiking Southern California: The Tastiest Way to Discover SoCal's Beaches, Mountains, and Deserts.
2. How did you figure out what to emphasize and highlight?
These are the things that I've currently really enjoyed working on (outdoors and conservation/environment), some of my top values (connections and advocacy), and the main things that I do (journalism, copywriting, SEO).
2022 update: These are still the things I've enjoyed working on, but I also have honed in more on my values for what's important to me and what is valuable information for any potential clients.
3. What did you do before freelancing?
I was an editorial production fellow at Outside Magazine for six months as my first job out of college where I majored in English Lit and minored in biology.
4. What made you decide to start freelancing?
I didn't want to be tied to one location in a job because I love to travel. Though I also wanted to make some money, so I figured I'd give it a try.
5. What was your education/experience before starting freelancing?
I have a BA in English with a minor in biology from a joint degree program with the University of St. Andrews and the College of William and Mary. I'd also done a 6-month fellowship at Outside and a 3-month internship at Climbing. I did not have a formal journalism degree.
Starting Out
6. What preparation did you do before going full-time freelance?
I spoke with my then manager at Outside about it, spoke with a few different freelancers about their advice, then just kind of dived in. Basically, not much because my fellowship ended.
7. What was the most challenging thing for you when you first started?
Finding clients and figuring out taxes for self-employed.
8. What helped you the most when starting out?
Having mentors and people around me who knew how to freelance/do taxes. Also living with my parents starting out so I didn't have to worry about paying rent (and I know this is a MASSIVE privilege).
9. How did you get clients when you first started?
My very first clients were Outside and Climbing – the publications I had previously worked at, so really utilizing my network and former work relationships.
10. How did you get into the outdoors niche?
I love rock climbing and when I interned at Climbing I loved writing about the outdoors and learning more about it. Even more so at Outside. I love being outside in my freetime, so it just bled into that.
11. Do you ever go into other topics?
Yes! I will also write about conservation, travel, science, news reporting, marketing – all sorts of things. Plus with SEO I work with clients in different industries as well.
12. If so, why?
I'm still exploring different niches and learning what I like to write about and do. It also just helps to make extra money. A lot of my strict reporting will just be ideas that I have and pitch. They aren't all outdoor-related – I have lots of interests! Plus, I like being able to "diversify my revenue streams" with SEO and even website design from time to time.
13. When did you make your website portfolio?
I created a basic Pressfolio while I was in college before freelancing, then a slightly nicer one on Wix right when I started. I bought my domain name (johannaflashman.com) and had my current WordPress site up and running within the first 3 months of freelancing.
14. How did you make it? (Pay someone else, DIY, what service)
I did it myself because I like website design and working in WordPress. I used Bluehost to host the site, though have recently transferred it to Hostinger. I thought about paying someone, but it was out of my budget.
Logistics/Business
15. How do you work in vacation or sick days?
Still learning! Currently, I ask my daily clients very nicely and plan ahead of time for projects with deadlines. I haven't taken more than a few days off at a time since I really started getting clients. I try not to do any client work on the weekends.
2022 update: I try to book in vacation ahead of time and schedule clients and deadlines in a way where I can finish deadlines before time off and then not take on new assignments that will interfere with that time I've scheduled off. If I have a lull, I'll try to take longer vacation, but recently, it's mostly just been a day, half-day, or a long weekend here and there.
16. How do you handle your accounting?
Basically, a series of spreadsheets and a business checking account. I have a monthly budget spreadsheet I started while in my fellowship at Outside that I keep going. I have a yearly tax spreadsheet where I track all income for each month, all business expenses, charity donations, and how much I've paid in quarterly taxes.
2022 Update: for my 2020 taxes, I paid an accountant, though I'm now working on doing them myself using the IRS e-file system.
2023 Update: I work with a Brass Taxes accountant to do my taxes each year.
17. How do you manage retirement funding?
I started a ROTH IRA within the first year of freelancing to start putting money in right away when I could. I asked my grandpa who knows stocks where to invest it in.
Money
18. How do you decide your rates?
A mix of what I'm offered and how much it would break down to an hourly rate. Generally, looking at how much I really need to pay bills and meet my salary goals for the year/month. Plus, research on how much other people are charging.
19. How do you decide when you bump up your rates?
When I get new clients, I try to bump up the rate a little bit each time if it's a type of project I've done before. Kind of depends though! I haven't bumped up my rates too much so far.
2022 Update: It's still a mix of bumping rates with new clients and balancing how how much work I can take on.
20. How do you negotiate rates with clients?
If they offer me a really low rate, I will ask for more depending on the organization and potential experience/exposure I expect to get from the project.
21. How much did you make in your first full year freelancing full-time?
This will be my first full fiscal year as only freelancing! From January 2020 to December 2020, I made ~$21,000. I was also living with my parents most of the year and still on their health insurance.
22. Approximately how much do you make annually now?
Still making the same amount because that's where I am right now! Though I'm hoping to get up to $30,000-36,000 for 2021.
2022 update: Approximately $34,000 annually.
2023 update: This went down SIGNIFICANTLY this year because most of my year was spent writing a book with a very low advance. Hopefully it will pay off once it's published!
23. How did you start making more?
I got more ongoing clients and a retainer apprenticeship for SEO.
2022 update: I've really utilized my network, got more ongoing clients, and I don't take lower paying work that I know will drain me and make me unavailable for work that might come along and be higher paying.
24. How do you invoice?
I'm fairly low-tech: I use a slightly modified Google sheets template then download as a PDF to send to clients. Sometimes I will use payment sites like PayPal or TransferWise for international clients.
Clients
25. Have you ever had to dump a client?
I have occasionally chosen to not continue work with a particular client, though generally that has just meant not reaching out or pitching new stories after a completed project. This is usually just a case of recognizing the client wasn't a good fit with my interests or they were looking for a different working relationship style than what fits with my goals.
I've once also had to raise my rates and had a client choose to not continue with the higher rates. That was something I needed to do for my business and it sucks to lose a client because of it, but opens the door to new clients willing to pay the higher rate. It happens.
26. How do you find the right clients?
The best clients I've found have been through networking and being scouted based on them seeing some of my former work or postings.
27. What makes a good client to you?
Clients who are communicative and make you feel valued through good pay, clear feedback, and/or mentorship.
28. How do you handle clients asking for more work without paying you more? (i.e. extra revisions, extra research, etc.)
Still learning on this one! If I have the time, I might overdeliver for a week to see how much extra time it really takes. If it's worth it to just do it, I may. If not, I may try to explain that if they want that continued work, this is how much I'll charge for it. Or I'll start off by saying I can do it but this is the extra amount I'll charge.
I think it's a fine line between being easy to work with and not being taken advantage of, and I'm still learning how to balance that line.
29. How do you decide you're at capacity or not going to take on any new work?
Currently, if I'm making my goal income for the month I will ease up on actively seeking new work, but I'm only now learning what a capacity really means for me so I'll let you know!
2023 update: I'm trying to be compassionate with myself knowing I worked really hard on my book. Even though I may not be making my target monthly income all the time, now that the book is done, I'm giving myself space to recover even if it means being a little tight on money.
30. How do you communicate your value to clients?
Still learning! Ideally, I'll list out all the different parts of the job I offer in the statement of work/contract. In the long run, I'd like to be able to point to former clients and show how much value I earned them, but so far I just have some general recommendations from former clients.
2022 update: I now have former client proof and have client testimonials. I also note my previous experience and still fully list out all the different parts of the work I do.
31. How do you provide value for your clients?
Still learning! So far, my goal is good writing, good communication, and on time. Plus, I do my best to take direction and corrections.
2022 update: The real bottom line is I make my clients' lives easier. Whether that's requiring minimal editing, providing good research, delivering on time, making the payment process easy, or reducing their workload. Then of course number specifics like bringing more traffic to their site, increasing conversions, or providing value for their target customer.
32. What signals a red flag to you about a client you're considering?
If I have to run them down for payment, if they're unresponsive, or they have bad reviews from other freelancers/glassdoor.
33. How do you do contracts?
Still learning! Sometimes they send me a contract which I'll go with. Sometimes I'll send them a statement of work in PDF form or a more in-depth contract that I've seen people send me in the past.
34. Do you ever negotiate about contract clauses (like "work made for hire")?
I did once about a non-compete asking for them to clarify what they meant with it. If I can, I try to avoid "work for hire" clauses or clauses where I take all the legal responsibility. I learned a lot from this podcast episode from The Writer's Co-Op.
But again, I think it's a fine line between being easy to work with and being taken advantage of and I'm still learning how to walk that.
35. What's your protocol when onboarding a new client?
I try to always have a contract, sometimes I'll get on the phone with them. Pretty simple right now! I aim to have a 25% down payment for new clients, though that doesn't always happen.
Miscellaneous
36. What do you think you're best at as a freelancer?
Just going for it, I will pitch publications even if I think they're out of my league (like for this Nat Geo piece I wrote) or send cold pitches to brands I want to work with. (And having a very privileged background of not having student loan debt to pay, being able to live with my parents, and still being on their health insurance.)
2022 Update: I've also gotten much more confident in my network — especially because of this site! Making connections doesn't have to feel icky if you don't think of it as a direct tit-for-tat arrangement or as something where you're always trying to gain things from it. Be interested, share your passion, and build connection.
37. What do you like the most about freelancing?
Being my own boss and being able to work from anywhere.
38. What tools do you use for your business? (i.e. trello, transcribing, accounting, budgeting, etc.)
Currently:
Trello for tracking clients
Google Drive for SO many things (spreadsheets, docs, forms)
Banking apps to keep track of spending and income
Slack for communication with some clients and connecting with a community of other freelancers
WordPress for my websites and some of my clients' websites
Notion for some tracking work and notes during interviews
Otter.ai to transcribe interviews (I find this better than the journalism hub, but when I can't get it for free, I use the Google version)
Photoshop and Canva for photo editing when creating blog posts for clients
SurferSEO to optimize my and other writers' writing for SEO when that's a key goal
Ahrefs.com to track search ranks and success
Airtable to track editorial calendars for some of my clients
Toggle to track my time
For my Ipad – Nebo for notes and Sketch for some graphic design tools if I'm making graphics for a blog post.
Hubspot for email tracking
39. What do you think is the most important skill to have for freelancing in the outdoor industry?
A love for the outdoors but also a tenacious attitude so you don't give up after a few rejections or a rough patch.
40. How do you manage to stay inspired or cultivate enough creativity to continually think of stories?
Honestly, I still struggle with this, but I have an ideas list on my phone where I write things down whenever they come up. Sometimes I'll do brainstorming sessions. I always try to stay interested. Traveling, trying new things, meeting new people.
41. Have you ever gotten burnt out?
I did in college, though not entirely as a freelancer yet.
42. If so, what did you do?
I took care of my wellbeing and made time for things that made me happy in the moment like dancing, being with friends and family, rock climbing, being outside, or just relaxing. I concentrated a lot on my mental health and tried to slow down. I try to really emphasize that my well-being comes first for me (so I can more successfully help others and do good work).
43.
Have you ever dealt with imposter syndrome and if so, how did you manage it?
Yes!! 100% yes. I'm trying to manage it doing this entire website! It is honestly a constant feeling.
What's helped me the most has been finding more of a community with other freelancers (especially women) in general, then also specifically in the outdoor industry. You learn that there are very few people who haven't dealt with imposter syndrome at least a little. You see other successful people asking the same questions you want to ask and you might even find you can answer a few questions for other people too.
2022 update: I've also learned from Bryn Merrell to create a good notes folder of good feedback from clients or people I work with.
43. How do you decide when to strengthen current skills or learn new ones?
Still learning! I'm still taking courses, doing apprenticeships, and figuring out how to best spend my time. I've just found what opportunities come up and gone with things I've enjoyed doing or been drawn to.
44. Is there anything you've done as a freelancer that you regret? Or something you look back on and still cringe about?
Absolutely! I try not to beat myself up over them because hey, I was (and am) still learning and those are learning opportunities.
One thing I definitely cringe about is one of my first clients I started writing blog posts for, I was so in my own head with contracts that I had them sign a statement of work for each set of commissioned posts. I think they eventually stopped working with me because they were tired of it, but I just didn't know! I've now learned it's often best to just have one general overview contract, then emails are generally decent coverage for statements of work. (Though I wouldn't say that's a hard rule, either.)
45. If you could give one piece of advice to a newer woman freelancer getting into the outdoor industry, what would it be?
Number one: You're not alone.
But also: if you try it and you don't enjoy it, you can stop and it doesn't mean you're "giving up" or that it's a bad thing – you're just finding what actually brings you joy and maybe you'll come back to it another time. Essentially, don't see failure as a negative and don't be afraid of it. There's no one way to freelance and you can find something that works for you.