Meet Marinel de Jesus.
Hiker, writer, entrepreneur, advocate, and all-around badass, Marinel has created her own space in the outdoor world and developed her unique brand with her website Brown Gal Trekker and tour company Equity Global Treks. Before beginning her freelancing and entrepreneur career, Marinel was a lawyer for 15 years and she uses that education base in her work with writing and advocacy.
Currently living in Peru with her two cats, Marinel lives as a global mountain nomad and has traveled in over 60 countries around the world. She's learned what it means to be a conscious traveler and how to share that story in her work through her independent travels, her guiding company, and her non profit organization The Porter Voice Collective.
In this interview, Marinel shares her insight and advice on finding your voice and being an advocate in your writing, being a woman of color in the outdoor industry, and navigating the differences between entrepreneurship and freelancing.
Year started freelancing full-time: 2017
Age when started freelancing full-time: 39
Preferred Pronouns: she/her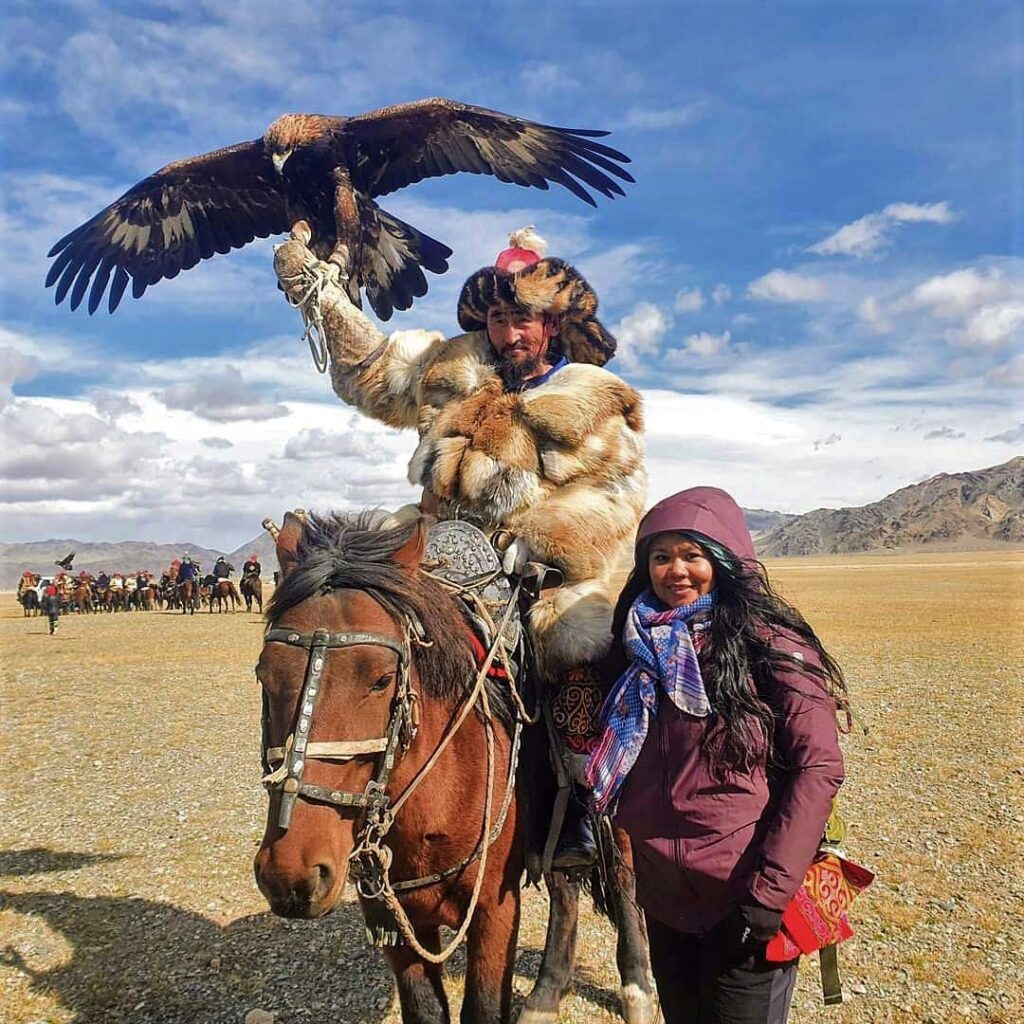 What's your 'About You' elevator pitch for what you do?
I write for travel and outdoor magazines. I'm also very solution focused where I focus on social and human rights issues that have an angle on the problem, but also figuring out a solution.
How did you figure out what to emphasize?
When I first started in 2016-17, I was a lawyer and I wanted to just run my company and do blogging on my website and focus on outdoors like "10 Things to Do in Republic of Georgia" or "Off the Beaten Path in Mongolia," but actually it was by accident that I became a [paid] freelance writer. I realized a person like me with a little experience and my own viewpoints in the world, it's not common yet.
So this is the diversity part. If I pitched 10 things that I do in certain countries, it didn't feel genuine to me. I realized I wanted to write about what I see in the countries I go to as a brown woman because I see it differently from other people.
At first I was nervous about that because I was new to the industry and I didn't see a lot of people that looked like me. But then I realized I just had to decide whether I was going to copy everyone's narrative, or use my genuine voice and write about what I really see and feel.
What did you do before freelancing?
I was a lawyer for 15 years. I worked in Washington DC and I did civil rights litigation. So I did a lot of writing and arguing in verbal and written. My writing was very persuasive. I have no regrets, it's actually one of the best skills I'm able to use now because it helps me a lot as a writer with my focus on equity, human rights, the outdoors, and travel.
How did you get into doing what you're doing now?
I fell in love with hiking and that's how it all started.
I've been hiking since my 20s. I started organizing trips through meetup.com and I became a leader. Then the more I led groups all over the world, locally, and nationally, that's when everyone started saying, you have another skill. You can have a company.
At first I thought no, that's crazy, I'm probably going to be a judge one day. That's your momentum as a prosecutor — if you get tired of prosecuting, you become a judge. Once I hit the 15-year mark, I started thinking, I can't be a lawyer forever, this is a high stress job. You're always going to have a boss who knows better than you and it's frustrating because you've been there for 15 years.
So that was a turning point for me in 2016-2017.
I had to make a decision. Do I stick around and pursue being a judge? Then I thought, if I don't become a judge, what is my other option? And honestly when I asked myself that question, I realized I just want to get paid to hike. That was the honest truth that I felt in me. But I thought I don't even know how that's possible. 
In 2017, my mother died. I said to my boss I've got to go to the Philippines because she passed away there. My boss said go, take as much time as you want, and I never went back. It took me a long time to have the guts to quit. It took my mom passing to have clarity. When I went to see her, I had no inclination to go back to my job.
I told my dad at the funeral, I'm just gonna be a nomad. And then you lose the shame and the feeling of guilt about the idea that you want to be a nomad and all these things that you thought were crazy become a normal thing in your head.
In 2016, I did start my company, Brown Gal Trekker and Peak Explorations (now Equity Global Treks and the Porter Voice Collective) part time, and after my mother passed away in 2017, I went full-time on those projects. Got rid of my house, got rid of my possessions and eventually came down to just backpacks and my cats. Then I brought them to Peru.
What was your education/experience before starting freelancing?
I went to the University of Washington in Seattle and I was a lawyer for 15 years.
What was the process for you with creating your own company?
The company is kind of an extension of the hobby that I had for almost 17 years before it became an LLC. On meetup.com I was an organizer for many different meetup groups in the DC Metro area.
So I would take people to do hikes in Shenandoah, local stuff in the DC Metro area. I'd go to Colorado, I'd go to California. But it also went overseas because I like combining hiking and overseas travel.
So I started doing an experiment: What if I bring people to Nepal or Kilimanjaro? How did that work? Would I hate it or not? And it turned out every trip that I've organized it's always been very pleasant. I always enjoyed it. And I like organizing it because you can pick and choose the itinerary. You have a lot of control over how it's gonna go.
When I first started hiking I followed people, but I felt kind of uncomfortable because back then years ago a lot of the leaders were white men. So it's always kind of awkward going on those trips because it's their trip, it's their group. And then I always get this microaggression feeling where they're polite but I never really felt welcome.
Now when I'm the one leading it, it's a much more liberal viewpoint and because I am a person of color, hey we can talk about race if you want. And back then, it was like "oh, I have to kind of sound white. I have to decode myself." And I hated that.
So that led me to opening a company because by the time I opened my company, I'd already taken people to over 20 countries or more. I'd gained the skills as an entrepreneur. The only thing I probably didn't know is how to file for LLC or the accounting part because I didn't charge money for profit. But it was evolving into this formal travel company based on the 10 or 11 years that I was running meetup trips.
There's two aspects to it.
First, let me talk about me first being involved in the industry as a person of color and a woman. I've been approached by magazines that want to talk to me about the Diversify Outdoors Coalition because I'm a part of it and I write about these issues. Or they want to feature me or write a story about my life or whatever.
It was a teaching moment for me in terms of how we tell stories and whose point of view we use because I've been in situations where people would write my story and it's not capturing how it should be said. There is going to be a disconnect and that's natural, it's understandable, but if there's someone else who can tell your story better, I think they should be the one to tell it.
This is one of the lessons about storytelling that I think all of us as freelance writers should learn: When we are telling a story of someone else, not the story of your story, but other people, we need to ask the question, should I be telling this story? Am I qualified to be the one to tell the story?
Once in a while you do a story that's a list of hikes and that's quite different, but there's almost always an element of people or community or history and culture in it and we have to be sensitive to whether we even have the standing and the best position to be telling those stories.
For example, I do filming as well and when I filmed the porter issues in the Inca Trail, I wanted a Quechua person, someone who is from the local area to be part of the film, to even produce it and direct it. I did some research on it and I couldn't find anybody who could do it, so I went through the same questions in my mind: If I do this film, what gives me the credibility and the substance behind this? What's the best argument for me to do this versus another person who's Quechua, because they should be the one telling these stories.
So I think there is an innate ownership in terms of storytelling. People have the right to tell their own story.
I say this because the other thing I want to say is that when I pitch stories to editors I think we're still in a culture where we're not sensitive to the community and the culture inherent in the stories. I still see stories being written by people who are outside the community and they're writing it because they're well known writers.
For me as a woman of color, it's always hard for me to knock on the door of the editor and to be listened to because it's almost like a club, like the network of writers. They need to open that door to people like me so I can tell those stories and I think editors have to see the value of what people like me can bring.
Are there any specific things that either you really like or dislike seeing from other freelance women?
There are people who are getting it.
So I dislike it when they're not mindful, but I love it when they do care about it, and I've seen that as well.
There is a bit of competition obviously because there's not a lot of opportunities and it's always trying to get your foot in the door, but I've also seen a lot of camaraderie. I'm part of a bunch of freelance writer groups, outdoor groups, and travel groups and we all help each other.
The fact that the writers are becoming more socially conscious and in tune with equity, I think that's such a good thing for the industry.
You offer quite a few different services – what are all the services you offer?
I'm into diversifying because when I was a lawyer it was one thing — lawyer. And I totally shifted from being single-minded with my career to thinking it's good to have diversity.
So I'm technically an entrepreneur since I have the [trekking] company, which is the main income. And then I do freelance [writing]. But I'm lucky because the two complement each other, because my writing gets exposure for my company and vice versa.
I'm also an advisor and consultant for equity and inclusion for companies, so I can make money off of that as well.
One thing I want to tell freelancers is you don't have to just be a freelancer. If you combine it with some other skill that you're interested in, you could be a few other things and sometimes they can work very well together and that will be your brand — it can elevate your brand.
There's a lot of freelancers, if you want to stick out, maybe you can add something to it.
How do you differentiate between freelancing versus being an entrepreneur?
Freelancer to me is more, you're basically working for someone and getting paid by someone else. So the income's coming from someone in exchange for a product which is usually a writing piece.
An entrepreneur is almost the other end of it. The way I do entrepreneurship is completely different: it has nothing to do with writing, it has to do with travel tourism packages. So for me as an entrepreneur, my product would be a tour to Kilimanjaro or a trek in Nepal.
As a writer, you are kind of at the mercy of someone else — the editor. They say yes or no to what you're pitching. But as an entrepreneur, you're completely the boss, you run everything. You make a lot of decisions on how operations work and you pay people too, which comes from your customers.
But they're two different roles completely and I kind of like it. Being an entrepreneur, it's mentally exhausting to make all the decisions. As a writer, no decision making, I just have to write an article and sometimes that's nice. Then at times it's nice not to be a writer because you're at the mercy of folks and you don't always know if you're going to get a gig.
My company actually did zero trips last year because of covid so thank God I had freelance work and that's why I encourage freelancers and people who work on their own to have multiple outlets of income.
How did you learn the skills to be an entrepreneur?
I just learn as I go. I was a lawyer, so I had some legal background, so it's easy for me to do the legal aspect of the business, but accounting and marketing for example, is one of my weaknesses. Marketing is a special thing.
I kind of just went with it. If there were conferences for example, I would go. In the beginning I did search for some resources in DC like the SBA which is the small business administration — they have little workshops. I started out with just the very basics of how to start a company and what does it mean. But the reality of it is you're never gonna understand it until you're doing it and issues arise. So the theory in the beginning won't make sense until you're in it.
You're gonna end up having mistakes and the mistakes are the ones that you're gonna learn from. You're gonna learn to understand your client, your branding, your website, how do you make it.
And if you are gonna start your company, don't think you know everything. It's okay to say "I need help." For example, when I first started I knew the legal stuff and I can kind of do a bit of writing about the trips, I can design, but then I didn't know how to do the website like the coding and all that stuff to make it pretty.
So I had to stop myself and say you know what? It's okay. I really am clueless. I'm an idiot when it comes to that. Let me pay the money and hire someone.
You have to learn to invest and make that decision to give that task to someone else. I think one thing that's hard about being an entrepreneur, you can become a control freak. It's like unless you trust the person you're giving a task to you don't want to give the control because you end up saying to yourself, "I'd rather do it because I know how to do it and I know I'm not gonna be disappointed."
So little by little I had to learn to let go of control and say marketing — I'm gonna hire someone. This part, the logo, I'm gonna hire someone. I don't have to do everything. And it's better that way because then you don't have all your energy used up.
It's also important to take care of yourself as an entrepreneur. When I first started, the first two years, I worked all day. I was busier than I was when I was a lawyer. Now I'm like, I'm not doing that again. I'm just gonna chill.
What do you like most about freelancing and being an entrepreneur?
The freedom definitely, because then you can work as little and as much as you want. Because I used to be a lawyer and that was so scripted, it was refreshing to be a writer because it's a creative endeavor. It's almost like a work of art for me.
I came from a profession in my first act of life where I was robotic; where I'm told by my boss, argue point A B C and you go to court. But writing gave me a creative outlet to express more who I am. Now it's like when I see the name next to the article, it's like "yeah, I really created that. That's Marinel."
Also, I'm able to put voices on people that have no voices. I like that I can still be an advocate. I have the freedom to pick stories and if I can find the right outlet, I can elevate some of the voices that are not being heard.
Do you have any tips for amplifying other people's voices?
I think it comes down to the relationship you have with your source or the subject in your article. If you take the time to get to know them and have this bonding relationship with them, they will tell you the truth about who they are. Then you will do a great job as an advocate and an amplifier for their voice.
For example, I work with the Quechua porters in Inca Trail. There are a lot of exploitative practices against them like not being paid, not getting meals, sleeping in the caves or the bathrooms because there's no proper tent.
I've seen some articles about porters in Inca Trail or Nepal and they're very on the surface. Usually the tone is "oh, they're really strong. They carry like 50 pounds." And I'm thinking, 50 pounds should be illegal, they should be carrying 25. But the narrative is completely different. It's not about the violation of their rights and abusing them, it's actually about glorifying that they're strong. So those kinds of articles, they're not really amplifying them. It's like an outsider observing something and putting their opinion thinking what an awesome group of people they are because they're so strong.
What amplifying their voices would be is if you can gain the trust of the porters and you come in there with humility and you actually say, I want to understand your story. And you sit there and give them the time to get to know you. They will tell you truths that they will normally not tell you if you're just a writer who comes up for an hour to speak with them.
I spoke to some of the people being interviewed in Peru by magazines and I say "how come you said that to them and then you said something different to me?" and they go "because I know you." In a way, they tell the writer what they want to hear, which is the typical narrative, but if they really know you, they will tell you the truth. And if they tell you the truth, that's when you can amplify it.
So spend some time with your source. Get to know them. Be humble. Let them drive your story. Don't come with a set narrative. Give them some decision making in terms of how the story should go.
Do you belong to any professional associations?
For writing, I'm part of OWAA – Outdoor Writers Association of America. I've also been a part of OIA, Outdoor Retailer.
I'm on the board of the American hiking society. I'm also part of a lot of Facebook groups.
How have those been important to you?
It's kind of a recent thing that I did. I just participated this past year. The value really is to get a sense of what the industry is about. Finding your place. For me that's one of the values that I got from participating in the conferences and being part of these organizations. Especially for newbies.
It's like going into the ocean, trying to swim and see what's going on. You won't know until you see other people in the water. You can't be in isolation and figure out this is the kind of writer I want to be or this is the topic that's big in this industry. It's a good way to gauge where you want to be and how you want to be as a writer in the industry.
Networking as well and just seeing people face to face. When people see you in person, they remember you more so than just the email, and then when you start creating your brand as a writer, they now know who you are and it's easy for them to refer you for any opportunities.
If you could give one piece of advice to a newer woman freelancer getting into the outdoor industry, what would it be?
Be true to the voice that you want to utilize in your writing. Don't copy what's already been done because you see it's been successful. Innovation is okay. Being different is okay. Trust your intuition.
Bring your unique self because you are unique and don't second guess it. Do writing that matters to you and inspires you because if it inspires you, it's gonna inspire someone else.
I get into trouble talking about this with some people because they don't agree, but one thing I want to tell beginners is don't worry too much about money in the beginning. I've had situations where I would write for a magazine, they didn't pay me, but in the end they connected me to a much bigger opportunity and I'm a believer of that.
---
Want to learn more about Marinel de Jesus and her many different skills? Follow her on her platform Brown Gal Trekker or on Instagram.
Some of her work: